One of the few music events I look forward to each year is Rock The Bells and I like to think that I'm quite lucky because it always takes place in my town of Columbia, MD (even though it's always advertised as "DC"). I was even more excited this year because I was offered a press & photo pass from the publicity firm that Guerilla Union utilizes, which usually means up close & personal access to the artists performing. If you're not familiar with Rock The Bells, I can only describe it as one of the best hip-hop shows that blends the best of main stream & underground hip-hop acts and showcases them on two stages. Typically Stage A, for the more well-known acts (supposedly) and Stage B, is usually showcasing the underground/lesser known acts (and I use the term 'usually' lightly, which I'll get into in a few).  This years line up included everyone from Nas, Busta Rhymes, The Roots, Common, Talib Kweli, K'Naan, RZA, GZA, Tech N9Ne, Big Boi, Chali 2Na, MOP, BuckShot, Slum Village, Murs, Tabi Booney, Sage Francis, Slaughter House and a few others. So as you can see, you have the 'radio' friendly artists, to straight underground.
When I received information about my press credentials, I was also sent the information as to who to contact if I was interested in interviewing any of the artists performing. Now, I will first say that I'm not a music critic/blogger. Of course I listen to music, but typically it's not what's being played on the radio. I'll leave the music critics/blogging to the experts. A few days before the show, I was contacted by a certain artists A&R person asking if I'd be interested in doing an interview. When I saw the artists name, I jumped at the chance because they were one of my favorites. After a few emails going back & forth, the interview time was scheduled. To say that I was psyched would be an understatement. I think I told everyone I knew, more than once, who I was interviewing!  But we'll get back to that in a few.
This past Sunday when I arrived to the festival, the first thing I noticed was the crowd was a lot thinner than it has been during previous years. I guess the recession is hitting everyone in the pockets. Speaking of recession, you'd think the ticket prices would have been a little more reasonably priced, instead of the $51-176 range. If I had to have paid for a ticket this year, I don't know if I would have been in attendance. Also, for some reason this year, Merriweather Post Pavilion, did not allow people to bring their own coolers or lawn chairs. People were only allowed to bring in one unopened bottle of water & blankets. So basically you were being forced to buy expensive food & drinks and blankets for $15. It killed me to have to pay $3 for a small bottle of water, but a chick was thirsty as hell in that heat! It's amazing that I'm not the only one who had several complaints about how Rock The Bells is organized, fellow blogger, Afrobella, shared her views along with those of photographer, Tafari Steveson-Howard's today on her blog as well!
I arrived at 12pm and receiving my credentials was pretty smooth sailing. I was told that I would be allowed to photograph the first three songs of each artists set at the front of the stage. I really didn't have any complaints about that, because it's a pretty common practice.  Now the hard part proved to be dividing my time between Stage A & Stage B. What I found hard to believe is that Stage B had some of the greatest hip-hop acts EVER. Seriously, why would RZA, Raekwon & Slum Village be considered Stage B type artists? What even sucked more is that it just wasn't RZA & Raekwon, it was WU-TANG (minus Meth & Ghost)!! But on Stage A, you had The Knux and Tech N9ne. I mean not to discount their hip-hop Stage A worthiness, but they're no WU-TANG!?! So yeah, to say I was slightly dumbfounded when I saw that is another understatement.
I had my camera ready, my press 'sticker' pasted to my dress & my $3 bottle of water and was ready to hear some live music, but all I could concentrate on was my 5:30 p.m interview with none other than TALIB KWELI!   Talib's Tour Manager, Craig, emailed me around 1 p.m letting me know that everything was a 'go' and if I needed him for anything that I should call him after 3 p.m. While checking in at the press area, I happened upon fellow blogger, Shabooty. This was our first time meeting in person, but we had exchanged several emails & tweets throughout the week in regards to the show and he also had an interview schedule with Talib Kweli.
So during the time before the interview, I got my amateur photography on. Of course, it would have been asking too much for a show to actually run on time, I think each set was about 20-25 minutes behind schedule. Once again, from my vantage point, at the front of the stage, I noticed all of the empty spaces in the pavilion seating, where as the lawn (which were the cheaper priced tickets) was pretty packed.
As K'naan did his acapella of "Somalia" the crowd definitely showed that they enjoyed it! Everyone, from white people to black people were singing along!
As 5:30 inched closer, my anticipation was gaining. Once Talib Kweli hit the stage, my time to interview him was just minutes away. As I watched his set, I guess you can say I was anticipating a little 'more'.  And even after the show was over, as I was speaking with HWSRN, he said the same thing. Btw, he had on a cute pink watch (pause).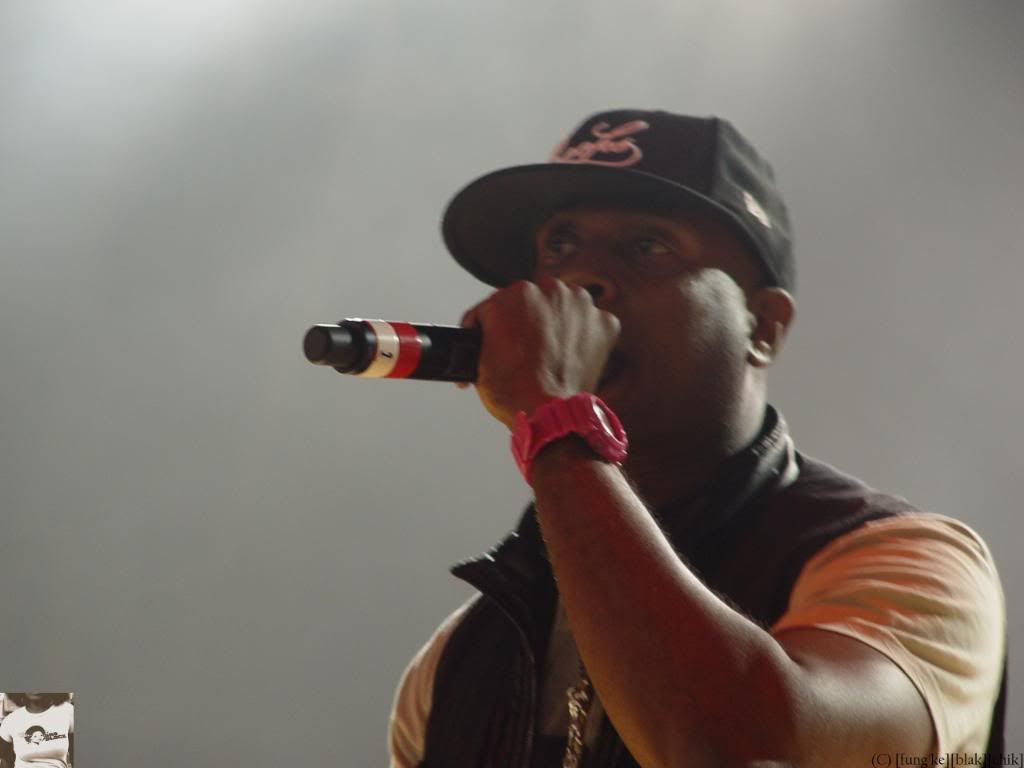 Talib Kweli
So eventually, his set ended. I made my way backstage to get ready for my interview. Also waiting backstage was Shabooty, a guy from DCist , someone from Art Whino and two other people waiting for interviews. Talib's Tour Manager made sure to let us know that it would only be a short wait until Talib was ready to be interviewed, so at that time it wasn't a big deal. As we were standing in the hallway, it was a who's who of hip-hop walking right by us and being cordial.
Tick. Tick. Tick. Tick. Tick.
That's the sound of time passing us by as we waited, and waited, and waited and waited. Did I mention, waited? Behind the closed door, we heard arguing, complaining, whining and bs, that was coming from Talib.
Talib Sold His Soul To Hennessey
Who would have thunk that he was unhappy about being interviewed and complaining so loudly about it. We all just stood there in amazement. Really, is that how you act when people want to promote your music, especially since it's been a while since anyone has heard anything from you? Wouldn't you want your upcoming projects to be known, instead of a tacky Hennessy wedding photo? I mean the wife is beautiful, but Hennessey?
As the world turned and people performed, we waited some more. Damn, I missed Common's performance, as I was rushed backstage by Talib's Tour Manager, to watch Talib perform one song with Common. The only shots of Common I could get were of his shiny, bald head.
After Talib finished his song with Common, we once again, assumed our positions of waiting outside his door as he bitched & moaned. After about another half hour, everyone was over it and basically said 'fuck him' and left. Not only were we pissed that we didn't get the interview, but we were pissed that we missed SEVERAL performances that were better than his set.
The blogger, that is Shabooty, always stays on his game, managed to blog about it, while we were standing there, you can read that here! Besides this issue with Talib, the rest of the show was excellent.
My favorite by far was Busta Rhymes! He brought me back to my college days at Rutgers, when he performed at our Unity Day. He did old school, from Scenario to bringing out MOP and doing his most recent music.  Nas was definitely worth staying till the end to see as well and surprisingly AZ performed with him. I just wish I had spent more time on Stage B, than Stage A. I heard from others that Wu-Tang, MOP & Buckshot were even better!
Eventually that night, I made my opinion known on Twitter, about how I felt about the Talib incident, and then the next morning, he had his own thing to say. If it was in regards to my tweets that someone retweeted or someone else's complaints about his show, who knows:

So where does you honing your craft and still being professional live in a peaceful existence? I guess the two don't go hand in hand. And it was more like two hours of waiting, than two minutes. So will I make a return next summer to Rock The Bells? Who knows. Will this one be a memorable experience? Of course it will be, the good, the bad & the ugly. I also won't let one incident with an 'artist' ruin my perception of others.